Uttarakhand Govt Jobs 2023 – Are you Searching for Latest Job In Uttarakhand? This Is The Right Platform where are you can get the Latest Govt Jobs In Uttarakhand and There Full Notification. In 2023 many of the Job publish by Uttarakhand Government here you can find all types of Upcoming Vacancy in Uttarakhand 2023.
Uttarakhand Govt Jobs 2023
Govt Job In Uttarakhand 2023
Hello, Uttarakhand Job Seekers For the Upcoming Vacancy in Uttarakhand 2023, you are in the right place. Periodically, the Government of Uttarakhand releases information regarding various job openings.
These advertisements are displayed in print media and online. If you're looking Government job, Uttarakhand is an excellent place to look. JardhariClasses is The most dependable source for finding the greatest Uttarakhand government jobs for your needs and qualifications.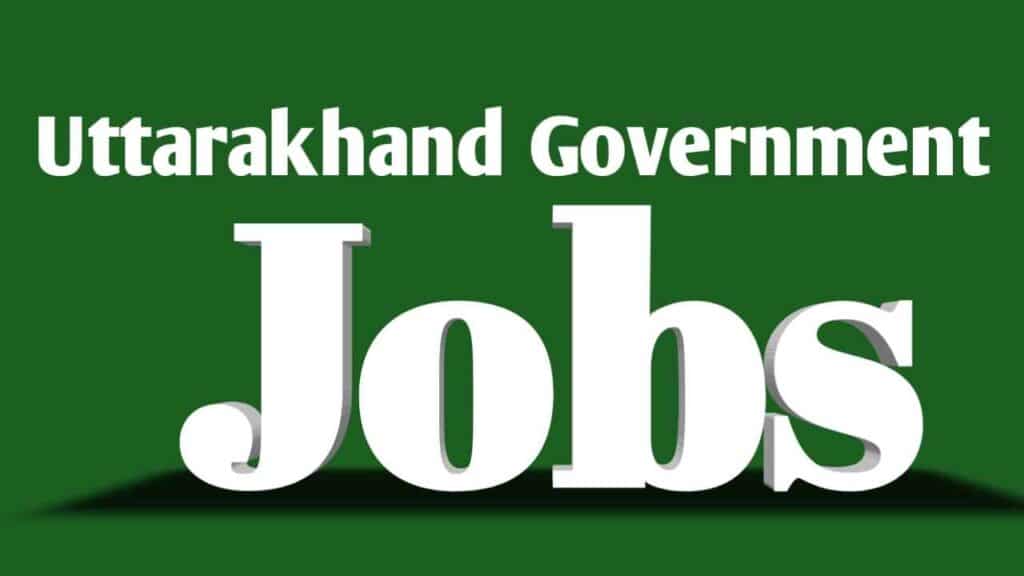 Candidates who have Completed 10th, 12th, graduation in any field, as well as other related degrees like engineering, medicine, and so forth, are eligible to apply for a variety of government jobs in Uttarakhand.
How to Get Govt Job In Uttarakhand 2023 News
To get Uttarakhand Govt jobs news, you can follow these steps:
Official Websites: Visit the official websites of the Uttarakhand government. Most government departments and agencies have dedicated websites where they publish job vacancies and recruitment notifications. Some of the important ones include:
Employment News and Newspapers: Check national and local newspapers, especially the Employment News, for regular updates on Upcoming Vacancy in Uttarakhand 2023. The Employment News is a weekly publication that provides information about job openings across various government sectors.
Government Job Portals: There are several online portals that specifically cater to government job vacancies. Websites like Jardhariclasses.com, Jardhariclasses.in often list Uttarakhand Govt Jobs notifications.
Social Media: Follow the official social media accounts of Uttarakhand government departments and recruitment agencies. They often post updates about job vacancies and recruitment processes on platforms like Twitter, Facebook, and LinkedIn.
Remember to stay here updated regularly, as government job vacancies can be published at any time. Additionally, ensure that you meet the eligibility criteria and prepare well for any recruitment exams or interviews that may be part of the selection process.
Who Issues Government Job Notification In Uttarakhand Govt Jobs 2023
In Uttarakhand, various government departments and agencies issue government job notifications depending on the nature of the vacancy and the level of the position. Here are some key authorities responsible for issuing notifications of Uttarakhand Govt Jobs 2023
Uttarakhand Public Service Commission (UKPSC): UKPSC is responsible for conducting recruitment exams and issuing notifications for various Group A and Group B and Some Group C positions in different departments of the Uttarakhand Govt Jobs. These Vacancy often include administrative, civil services, and technical roles.
Uttarakhand Subordinate Service Selection Commission (UKSSSC): UKSSSC handles the recruitment for Group C positions in the state government. These positions include vacancies in departments like education, health, forest, agriculture, etc.
Uttarakhand High Court: The High Court of Uttarakhand releases notifications for vacancies within the court, including positions like judges, clerks, stenographers, and other administrative staff.
State Government Departments: Individual government departments, such as the Department of Education, Health, Agriculture, Police, and more, also issue job notifications for positions that fall under their respective departments.
Other Autonomous Bodies: Various autonomous bodies, public sector undertakings, and government institutions in Uttarakhand may independently release notifications for job vacancies within their organizations.
Opportunities On Government Jobs In Uttarakhand 2023
Uttarakhand offered various government job opportunities across different sectors.

Teaching Jobs: Vacancies for teachers and faculty members are regularly advertised in government schools, colleges, and universities in Uttarakhand.

Healthcare Jobs: To work in government hospitals, health centres, and dispensaries, the government hires medical professionals, including doctors, nurses, chemists, and paramedical workers.
Forest Department: Uttarakhand's forest department often recruits forest rangers, guards, and other staff for the conservation and management of its rich biodiversity.
Police Jobs: Uttarakhand Police Department conducts recruitment drives for positions like constables, sub-inspectors, and other police personnel.
Engineering Jobs: Engineering graduates can find opportunities in various government departments and agencies, especially in sectors like public works, irrigation, and electricity.
Revenue and Taxation: Vacancies arise in the revenue and taxation departments for roles like revenue inspectors, accountants, and clerks.
Transport Department: The state's transport department recruits individuals for positions like motor vehicle inspectors, drivers, and clerical staff.
Panchayati Raj: Rural development and Panchayati Raj departments offer job opportunities at the village and district levels.
Social Welfare: The government hires professionals to work in social welfare programs and schemes, including those related to women and child development.

How to Apply For Uttarakhand Govt Jobs
To Apply in Any Uttarakhand Govt Jobs 2023 first see the post Detail on our website JardhariClasses here all information about the related Job vacancy in Uttarakhand.
To apply for a government jobs in Uttarakhand, follow these general steps. Remember that based on the department and the post you are applying for, the precise application procedure may change. To ensure you get the most current and correct information, always refer to the original job announcement. Here is an overview:
Uttarakhand Govt Jobs Check Eligibility: Carefully read the job notification to understand the eligibility criteria, including age limit, educational qualifications, experience, and any other specific requirements.
Visit Official Website: Go to the official website of the recruiting agency or department responsible for the job vacancy.
Find Uttarakhand Govt Jobs Notifications: Look for the latest job notifications or advertisements on jardhariclasses.in or jardhariclasses.com.
Read the Notification: Open the relevant job notification and read it thoroughly. Make sure you understand all the details, including the application process, important dates, and documents required.
Register and Apply Online: First, if you haven't already, register on the website and complete the online application. Provide all the required details accurately, and upload any necessary documents as per the instructions.
Pay Application Fee (If Applicable): Some job applications may require an application fee. If applicable, make the payment through the prescribed mode mentioned in the notification.
Print Application Form: After successfully submitting the application, take a printout of the filled application form for future reference.
Prepare for Selection Process: Many government jobs involve a selection process, which may include a written exam, interview, or other assessments. Prepare for the selection process based on the syllabus and guidelines mentioned in the job notification.
Stay Updated: Keep track of further updates, such as exam dates, admit cards, and result announcements. Check Here regularly.
Remember to apply before the application deadline mentioned in the job notification. Carefully follow all the instructions provided in the notification to ensure your application is successfully considered for the job opportunity.
Preparation for Uttarakhand Govt Jobs 2023 Through JardhariClasses
If You Want to preparation for latest govt Jobs in Uttarakhand we will help you to our resources on this website, you see many of the posts of Uttarakhand general knowledge, Uttarakhand Quiz, Uttarakhand history, Uttarakhand geography detail and short notes you can also connect us on YouTube channel which is the same name Jardhari Classes.
Tip For Preparation Of Uttarakhand Govt Jobs 2023
Preparing for Uttarakhand govt jobs requires dedication, focus, and a systematic approach. Here are some tips to help you with your preparation:
Understand the Exam Pattern: Each Uttarakhand govt jobs 2023 may have a different pattern, including the number of sections, marking scheme, and time duration. Understand the exam pattern thoroughly to plan your preparation accordingly.
Know the Syllabus: Gather the syllabus for the specific exam you are preparing for. Make a list of all the subjects and topics covered and prioritize them based on their weightage and your proficiency.
Create a Study Plan: Develop a study schedule that covers all the subjects and topics within the given time frame. Allocate time for each subject and set achievable targets.
Get the Right Study Material: Choose the best study materials, including textbooks, reference books, and online resources. Look for materials specifically designed for the exam you are preparing for.
Practice Previous Year Question Papers: Solve previous year's question papers and sample papers to understand the exam pattern and the type of questions asked. This will also help you identify weak areas that need more focus.
Take Mock Tests: Mock tests are crucial for assessing your preparation and time management skills. Take regular mock tests to simulate the actual exam environment.
Stay Updated with Current Affairs: Stay updated with national and international current affairs, especially topics related to Uttarakhand. This is essential for various Uttarakhand govt jobs 2023.
Improve General Knowledge: Enhance your general knowledge by reading newspapers, magazines, and online news portals. Focus on topics like history, geography, economy, and politics.
Practice Time Management: During the exam, time management is critical. Practice answering questions within the allocated time to avoid last-minute rush.
Stay Healthy and Positive: Take care of your physical and mental health. A positive attitude and a healthy lifestyle will enhance your ability to concentrate and perform well in exams.
Join Online Classes (Optional): If you find it challenging to prepare on your own, consider joining JARDHARI CLASSES YOUTUBE CHANNEL.
Stay Consistent: Consistency is key of success. Stick to your study plan, and don't get discouraged by setbacks. Keep learning and improving.
Remember, each exam is unique, and it's essential to tailor your preparation strategy accordingly. Stay motivated, be confident in your abilities, and give your best effort during the preparation phase. Good luck with your preparation for Uttarakhand govt jobs.
Female Govt Job in Uttarakhand 2023
The Uttarakhand Public Service Commission (UKPSC) and other government agencies post job openings on their respective websites from time to time.
There are many different Uttarakhand govt jobs open to women, including those in the fields of administration, police, healthcare, education, and other fields. Typical job classifications include:
There is also a provision of reservation for women in Uttarakhand, as well as separate recruitment for women in some departments like police, education department, and healthcare department, in which only female candidates can participate.
Uttarakhand Govt Jobs – Frequently Asked Questions (FAQ)
Uttarakhand Govt jobs Selection Process
Selection Process for the Uttarakhand Govt jobs 2023 generally included a written test, Skill test, Interview, Document Verification, merit in Education or all of them and it varies on Different Post so you can check details on Website.
How can I Know about Latest Govt Jobs In Uttarakhand 2023?
You can visit this Website regularly jardhariclasses.in and also you can visit our YouTube channel where we inform you time to time about Uttarakhand Govt Jobs 2023.
Is the Uttarakhand Govt Jobs on Jardhari Classes Update Daily?
Yes, Uttarakhand Govt Jobs Page in Jardhari Classes Get Updated on Daily Basis, Candidate can get Latest Jobs In Uttarakhand Notification. Job Seekers can view all the latest Uttarakhand Govt Jobs 2023 on this Page Instantly.
Educational Qualification for Uttarakhand Govt job 2023
A candidate who has Completed either their 10th, 12th, ITI, Polytechnic, Graduation, Post Graduations from any Recognized Institute or University In India are eligible. It is different for each post, it depends on which department the vacancies have come.
Resource on Jardhari Classes to prepare Uttarakhand Govt Jobs 2023
Jardhari Classes Contain Large collection of notes which you can read through this website, apart from this you can take help by visiting our Youtube.
Minimum Age limit for Uttarakhand Govt Job 2023?
Generally, most of the time Uttarakhand Govt Jobs 2023, the Minimum age will be 18 Year calculating on 1 July 2023. But it may be different for some vacancy.
⭐⭐Also Read⭐⭐
Uttarakhand Gk PDF Notes
Uttarakhand History Premium Study Material
UTTARAKHAND DISTRICT SERIES